Water's Edge Motel
Lakefront Family Vacation Resort at the Lake of the Ozark
Are you looking for a great family vacation destination, a relaxing weekend get-away, or how about a nice place for your family reunion?
We are located on the calm, west side of the lake, in the quaint town of Gravois Mills, MO at the 10 mile marker on the Gravois Arm of the Lake of the Ozarks.
Highway 5 is your road to a good time at the Lake of the Ozarks! Be it Spring, Summer or Fall, the drive will be scenic and enjoyable. The Gravois Arm of the Lake is known for its calm water. Water's Edge Motel is your front door to fun and relaxation on the Lake.
Enjoy family-friendly activities, such as:
Fishing
Boating
Water skiing
Swimming
Horseshoes
Volleyball
Just relax on the lakeside with your favorite book
Many guests enjoy having cookouts in the yard! We have grills and picnic tables for your use.
Call 573-372-2201 today to reserve your date for a wonderful stay here at the "Waters Edge Motel."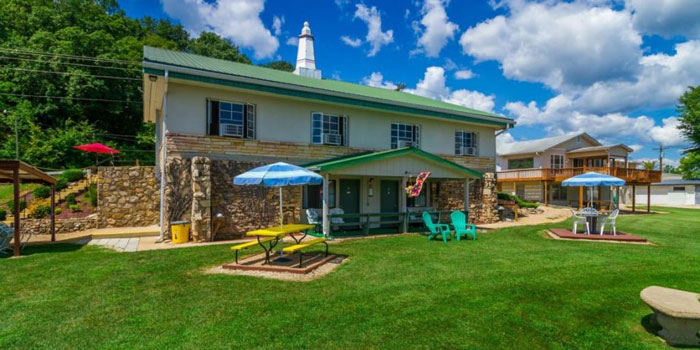 Call Our Front Desk
573-372-2201
WATERS EDGE MOTEL
25587 Hwy 5
Gravois Mills, MO 65037
Phone: 573-372-2201
Email: watersedge@socket.net
Check Availability
This form is not a reservation! The owners will contact you promptly to schedule your stay or answer any questions!
General Information
MasterCard – Visa – Discover – Cash – No Personal Checks
Check-In: 2pm – Check-out: 11am
Sales and room tax not included in room rates
Lakeview and Lakeside room rates are based on double occupancy
Each additional guest per room is $12.00 per night
Deposits: All reservations must be guaranteed by Cash or Credit Card
Roll-away bed (Lakeside rooms only) is $12.00 per stay
Child's crib rental is $12.00 per stay, childs weight under 35lbs.
Sorry No Pets
Reservation Cancellation Policy
Weekend cancellations require a 15 day notice prior to scheduled arrival
Holiday reservations, and/or individuals or groups reserving more than 1 room require a 30 day notice or the full amount will be charged if rooms are not filled
Qualifying refunds will be made less a 25% service charge
No refunds for late arrival or early departure
Important Lake of the Ozarks Date
May 1st – September 30th: Weekend reservations require a 2 night minimum
Memorial Day, 4th of July, and Labor Day: Require a 3 night minimum
Apple Festival, Harbor Hop, Jacobs Cave Day: Require a 2 night minimum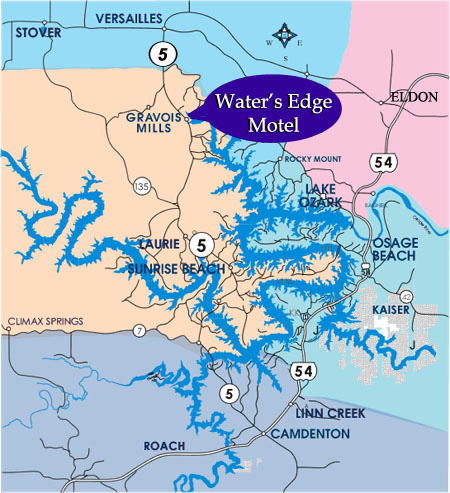 From Kansas City
I-70E approximately 75.5 miles.
Merge onto US-65 via EXIT 78A toward SEDALIA 35.4mi.or
US-50E to SEDALLA, turn (right) South onto US-65.
Take MO-52 Ramp toward COLE CAMP.
Turn LEFT onto MO-52/DILLION RD. Continue to follow MO-52 thru COLE CAMP to VERSAILLES. 24.5
Turn RIGHT at stop light onto MO-5.
We are 9 miles South of VERSAILLES on MO-5 on the left in the town of GRAVOIS MILLS.
From Sedalia
From 470S to Hwy 50E to Sedalia
Take 65S to Hwy 52 at Cole Camp Exit.
Stay EAST on 52 to Versailles to S HWY 5
Turn RIGHT at the stop onto MO-5
We are 9 miles south of the MO52/MO5 intersection in Versailles on MO-5 on the left in the town of Gravois MIlls.
From St. Louis
Take I-70 WEST toward Kansas City
Take US-54 EXIT at Kingdom City; EXIT #148 SOUTH toward Fulton.
Stay on US-54, 57.3 miles to the first ELDON EXIT, (Business 54) .
Take US-54BR 2.4miles. Stay straight to go onto MO-52 (McDonalds on your left.)
Continue to follow MO-52, 18 mi and stay straight onto MO-5. Continuing straight to VERSAILLES at stop light MO-52 / MO-5 stay straight through the light.
We are 9 miles SOUTH of VERSAILLES on the left in the town of GRAVOIS MILLS.
From Springfield, MO
Take 1-44 EAST toward Lebanon, Mo.
At EXIT RAMP turn NORTH on MO-5 thru Lebanon stay on NORTH MO-5
Continue on NORTH MO-5 thru Camdenton, Sunrise Beach and Laurie.
We are 9 miles NORTH of Laurie, Mo. on MO-5 on the right after the bridge in town